TAPYRUS Company HOME@"@Company Outline
About Us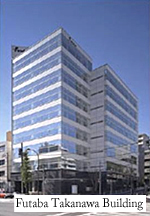 NameœTAPYRUS CO.,LTD.

Established œJuly 31st , 1987

Paid-up capitalœ50 million yen

RepresentativeœPresident KAZUTOSHI TAKATSUNA

Business œManufacture and sales of Nonwovens fabrics and their composite products
Locations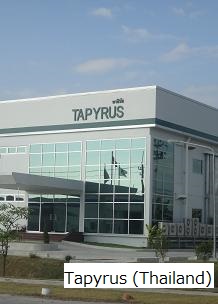 Head OfficeœFutaba Takanawa Building 5F, 3-19-15, Takanawa, Minato-ku, Tokyo 108-0074, japan@¨MAP
TEL : +81 (0)3 5449 7911@@@FAX: +81 (0)3 5449 2485
Access7minutes walk from Takanawa Exit of JR Shinagawa Station.
@@@ @6 minutes walk from Sengakuji Station on the Toei Asakusa-Line
Isehara Factoryœ18 Suzukawa, Isehara-shi, Kanagawa-ken 259-1146, japan@¨MAP
TEL : +81 (0)463 94 3841@@@ FAX: +81 (0)463 94 1127
Access10 minutes by taxi from North Exit of Isehara Station on the Odakyu-Line
Technological Developmentœ18 Suzukawa, Isehara-shi, Kanagawa-ken 259-1146, japan@¨MAP
TEL : +81 (0)463 94 4100@@@FAX: +81 (0)463 94 4730
Access : 10 minutes by taxi from North Exit of Isehara Station on the Odakyu-Line
Tapyrus (Thailand)œ700/745 Moo 1, T.Phanthong, A.Phanthong, Chonburi, Thailand 20160
TELF+66 038 185 506@FAXF+66 038 185 508

ISO Certificates
œISO14001 : March 2000
No. JCQA-E-0128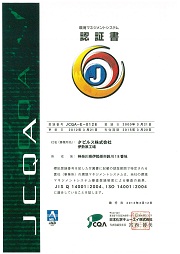 œISO9001 : March 1995
No. JCQA-0042

History
The melt blowing process was originally designed by Exxon Chemical in the mid 1960's.
Tonen Chemical which is one of the affiliates of Exxon Chemical has developed the process to the commercial level and installed the first commercial plant in 1974.
In 1987 TONEN TAPYRUS CO.,LTD was established as the melt blown nonwovens manufacturer.
In 2003 TONEN TAPYRUS was detached from Tonen Chemical with a new company name TAPYRUS CO.,LTD.