TAPYRUS Company HOME@"@About TAPYRUS
Melt blown nonwovens "TAPYRUS"
yCharacteristic of TAPYRUSz
The diameter of its fibers is from less than 1 micro meter to 30 micro meters, or from 0.006 to 6 decitex ( a decitex is a unit of a fiberfs thickness where 10,000 meters of the fiber weighs 1 gram), making it extremely fine webs.
yBasis Weightz
There are various kinds over a range from 7 to 400 g/m2.
yA Nonwoven Fabric without Bindersz
It is a self-binding fiber web which does not use binders, and is therefore non-toxic and safe.
yDense & Uniformz
Ultra-fine fibers are dispersed uniformly, therefore it is isotropic.
yMicro-porosityz
Filtering efficiency is excellent due to uniform dispersion of the 10-50 micro meters.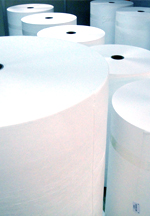 yTexturez
The Fabric feels soft, and it drapes very well.

It has excellent resistance to chemicals and electrical insulation.
yProducts Rangez
Raw Materials : Polypropylene, Polyester, Nylon, PPS, Polymethylpentene, PLA,@etc.

Grades: There are 10 or more types with an average constituent fiber diameter from less than 1 micro meter to 30 micro meters, so that grades with a wide range of fiber diameters can be chosen from.

Basis weigh: 7 - 400 g/m2
Product width: 1,300mm maximum ( effective width)
Tailor-made Products
TAPYRUS has 200 kinds of grade, and we are willing to make tailor-made products as needed.